SBD-5 Dauntless NZ5057
in RNZAF service
The Douglas SBD Dauntless was used for a short time by the Royal New Zealand Air Force, and in that time it distinguished itself as being a plane that delivered its weapons on target, on time. Many of the RNZAF Dauntlesses were also decked out with nose art, including this example below.
Douglas SBD-5 NZ5057
Sqn. Ldr. T. J. MacLean de Lange
F. Off. Sewell
No. 25 Sqn RNZAF
March 1944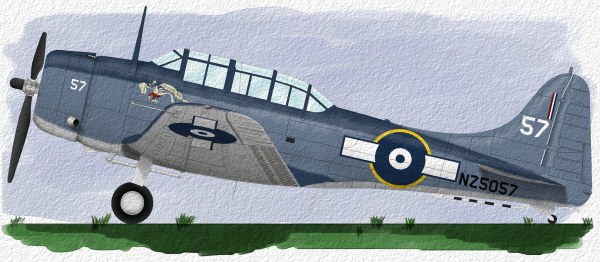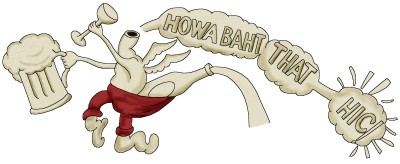 Left side view showing the placement of the nose-art. The origins of the artwork are unknown, but it appears to be a winged stomach carrying a wide assortment of alcohol.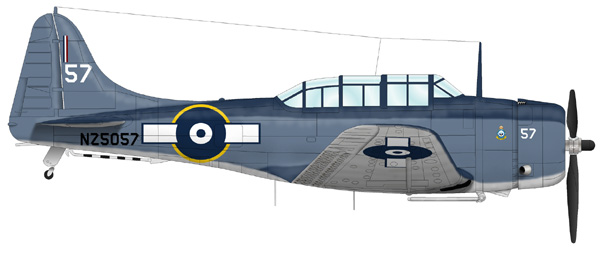 Right side showing basic unit marking layout. It is to be noted that the RNZAF roundels differed greatly from plane to plane, with some featuring the large white inner ring and blue borders shown here, while others had a thin white inner ring and no blue borders, and there was yet a third variation that had no white bars at all.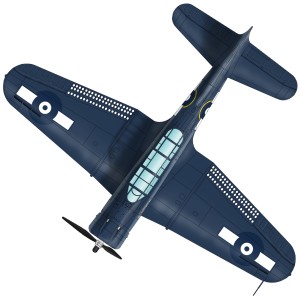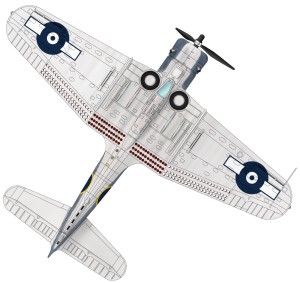 Here are the upper and lower surfaces, which show the camouflage pattern and the roundel position on the wings. Note that the roundels are carried on both wings, and they do not have the yellow outline that is on the fuselage roundels.
---
References:
Jenks: "Dive Bomber", AAHS Journal Volume 17, Number 1 Spring 1972.