SPAD VII Colours & Markings – A Brief Look
The French had two basic designs of fighters during the First World War – the Nieuport sequiplanes, and the SPAD biplanes. If generalities must be given, than the Nieuports were light, fragile aircraft powered by a rotary engine. The SPADs on the otherhand were heavy, robust aircraft which made use of the excellent Hispano-Suiza engine. There are advantages to both trains of thought, and that both were also heavily used by other air services speaks volumes to this.
In this little feature I will show the basic colours worn by factory fresh SPAD VIIs, as well as an interesting marking option for each from a different air service that made use of them.
---
Plain varnished overall with the metal areas in a light yellow to approximate the fabric areas. Used in 1916-17.

Although five colour is more widely know, there were also some four colour patterns using the same colours minus black. Shown here is that carried by aircraft built by de Marcay.

Ecru
Light Green
Dark Green
Chestnut Brown
Black

SPAD VII B1627
Lt Allabarton
No.19 Sqn RFC
Source: LA Rogers photo
Prior to their adoption of a black (or white) dumbell, No.19 Sqn used coloured bands as their marking. These may be seen in different combinations and widths.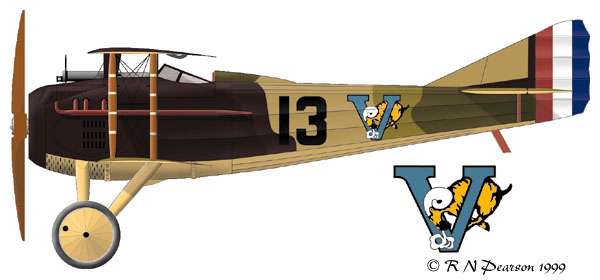 SPAD VII S.11421
Lt Jones
138th Aero Sqn USAS
March 1919
Source: C&C(Int) 25/4
Formed at Kelly field, Texas on 28 September 1917, the 138th Aero Sqn arrived in Scotland during March 1918 for further training. They then went overseas to France on 18 August. During September experienced pilots began to arrive, however these were trained on the SPAD, not the Camel (upon which the ground crews were familiar) and it wasn't until 28 October that the 138th was declared operational.
In the postwar period they, along wth the rest of the FIFTH PURSUIT GROUP - the 41st, 141st and 638th Aero Sqns - formed part of the army of occupation and were based at Coblenz. Ultimately returned to the USA and disbanded in September 1919.
The emblem of the 138th was the "Charging Ram" within the 'V' signifying the FIFTH PURSUIT GROUP.

SPAD VII
Ltn Decaix
Escadrille Spa.150
Source: Windsock 11/6
The unit marking of Spa.150 was the condor. As the unit commander Decaix had his SPAD further marked with black and white checkerboard markings.