Soviet Snipes
The last of the Sopwith fighters to enter squadron use was the 7F.1 Snipe, which reached the RAF in the early fall of 1918, the Snipe cntinued as the frontline RAF fighter of the immediate postwar era. Three Snipes are also known to have served with the Soviet Air Service. just how they acquired these aircraft is unknown as no RAF Snipes served in Russia, or with the Polish forces opposing the Bolshevik forces. But serve they did ... two of them are presented here.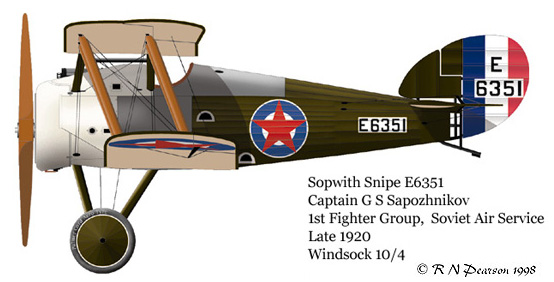 The most famous of the Soviet Snipes was E6351, which was flown by Georgy Sapozhnikoz. basic finish is overall PC10, with light gray panels around the cockpit and a natural metal cowl, undersufaces are in CDL. Originally the RAF markings were just overpainted with red stars, as a personal touch the name "NELLY" was painted on the starboard side behind the cockpit. Later the markings were changed to . . . .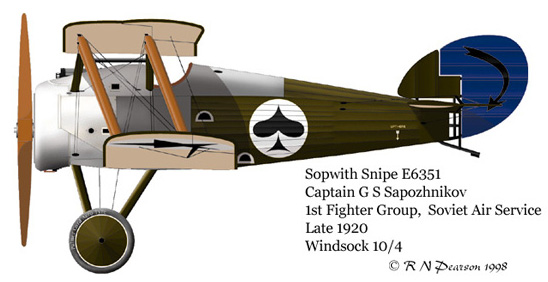 At some point Sapozhnikoz repainted "NELLY" as above. All of the British markings were removed, and the new scheme featured a black Ace of Spades on the fuselage; No upperwing markings and black stars under the bottom wings. A black arrow on a blue rudder complete the picture. Sapozhnikoz was killed in this aircraft when his engine failed on takeoff on 8 December 1920.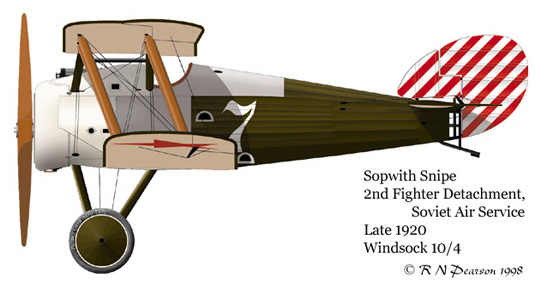 Another colourful Snipe belonged to the 2nd Fighter Detachment and carried the red/white striped fin and rudder of the unit. No information has come to light on the third Snipe used.
---
Reference:
Windsock 10/4: Red Star Snipes by Colin Owers