The Bristol Scout
The Bristol Scout first took to the air in February of 1914, and from that time forward this wonderful little plane was to see extensive service with both the RFC and RNAS throughout the First World War. Almost 400 Scouts were built over the years between the two variants. By the end of the war, had left front line service, but it could still be found in the hands of instructors, who valued its flying characteristics greatly.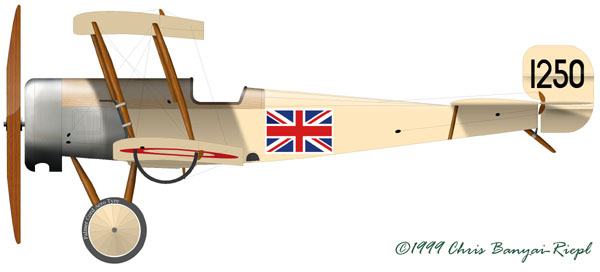 Bristol Scout C 1250
Eastchurch NAS
June 1915
One of the early users of the Bristol Scout was the RNAS. This Scout was delivered to Eastchurch NAS on 20 June 1915, and was still in use at Cranwell on 30 March 1918. This aircraft is an excellent example of the early RNAS markings consisting of a white outlined red circle on the wings and a Union Jack on the fuselage.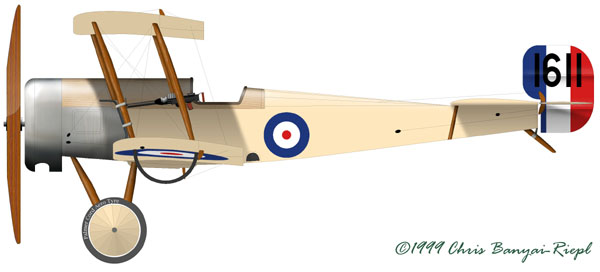 Bristol Scout C 1611
Lanoe G. Hawker, VC
No. 6 Squadron
25 July 1915
Probably the most famous Bristol Scout is that of Lanoe Hawker. While flying this Scout, Hawker shot down two enemy planes on the evening of 25 July 1915. Because of this action, and Hawker's unflagging enthusiasm, he was awarded the Victoria Cross, the first to be awarded for air-to-air combat. The war caught up with Hawker, though, and he fell in combat on 23 November 1916 while flying a DH2. His adversary was Manfred von Richtofen, and Lanoe Hawker was his 11th victory.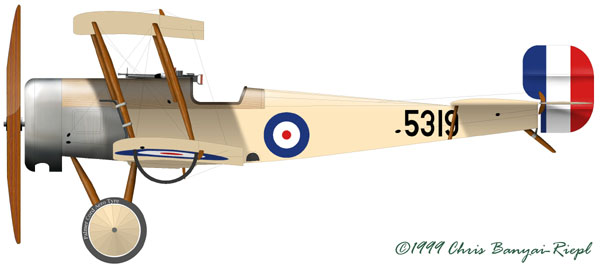 Bristol Scout C 5319
Central Flying School, Upavon
June 1916
The Bristol Scout came onto the scene before the invention of the synchronization gear, so the weapon placement varied a great deal depending on the plane. This particular Scout has a Lewis gun situated to fire at an angle so as to miss the propeller arc. Originally thought to be a Scout D, as that was how it was recorded in the tests at Upavon, this Scout actually exhibits all the standard features of a Scout C, namely being the shorter rudder and long ailerons.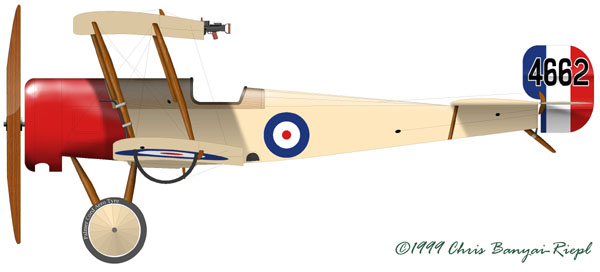 Bristol Scout C 4662
Farnborough
1915
Yet another weapon position is apparent on this Bristol Scout C, with a Lewis gun mounted above the wing. Number 4662 was the first Scout C of the batch 4662-4699, and it eventually ended up with No. 12 Squadron, where it flew until 18 January 1916. While the cowling is depicted as red here, it could have also been black. Red just looks better. :-)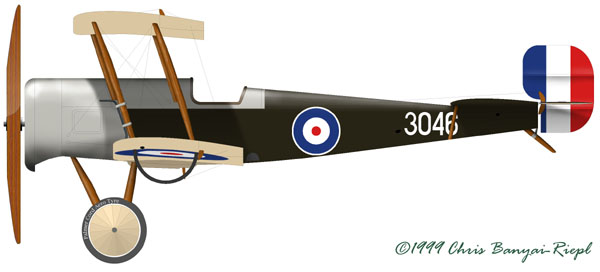 Bristol Scout C 3046
Controller of the Technical Department
Grain
March 1918
Even as late as 1918 the Bristol Scout was still in service, albeit in a limited form. Finished in the standard colors of PC10 over CDL, this Scout C first flew with the Experimental Armament Department, where it had an early form of the interrupter gear attached. By this late date, though, all the weapons had been removed and a clean airframe resulted.