Armstrong Whitworth FK8 " Big Ack"
The Armstrong Whitworth FK8 is one of the more unknown aircraft of the First World War. Ungainly in appearance, the 'Big Ack' was strong and well-liked by its crews. Two Victoria Crosses were awarded to pilots of the FK8 - full details may be found in the book "Victoria Cross: WW1 Airmen and their Aircraft" Written by Alex Revell and illustrated by myself.

Armstrong Whitworth FK8 A2702
Sgt.Major F Dismore / 2/AM Hare
No.2 Sqn RFC
August 1917
"QUEENIE II" went to No 2 Sqn on 27 June 1917, where its usual crew was Sgt.Maj F Dismore and AM Hare. While flying A2702 Dismore/Hare were involved in combats on 11 July and 26 August 1917. On the second occasion they were attacked by five enemy aircraft.
In addition to fending off the Germans, the RFC also had their Allies to deal with - the French had recently attacked an RFC FK8. Therefore on 12 August Major R A Cooper, OC of No 2 Sqn and Captain Frost flew to Hondschoote aerodrome to allow the French a chance to see one close up. The result is the photograph on the cover of C&C(INT)17/2.
On 28 September Captain W P M Brettell, OC of A Flight, flew a new pilot, 2/Lt C C Paul to Auchel aerodrome to practice landings. Paul crashed on his first solo attempt. Neither Paul nor A2702 returned to No.2 Sqn.
Prior to the more familiar zig-zag, No.2 Sqn RFC had used a triangle as their unit marking. The first letter of the personal marking appears to be a stylized 'Q', hence my intrepretation as 'QUEENIE'. The white of the name is highlighted by a blue drop shadow. The struts were fabric wrapped to protect from splitting.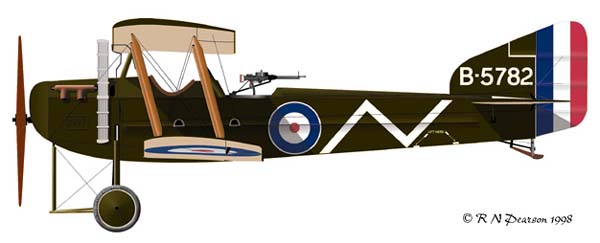 Armstrong Whitworth FK8 B5782
No.2 Sqn RFC
December 1917
According to SK Taylor, the photo I used to develop this profile was taken by 2/Lt Alan McLeod and was of the aircraft he flew in December 1917. On March 27th 1918, McLeod and his observor, Lt Arthur Hammond were attacked by the Triplanes of Jasta 6. In the ensuing action Hammond shot down four of the triplanes (not reflected in German losses). However their aircraft (FK8 B5773) was set aflame and Mcleod was forced to climb out of his cockpit and stand on the lower wing after the floor had burnt away. He then sideslipped to put direct the flames from Hammond and himself. Hammond, meanwhile was on top of the fuselage, straddling the Scarff mount. Eventually they crashed into a shell crater, with Hammond being knocked unconcious, McLeod (himself wounedn five places) dragged Hammond towards safety in the nearby trenches. South African troops pulled them into their line and at dusk they were able to be transported to the rear. McLeod was awarded the VC for his action in saving Hammond. Sadly Alan McLeod was to perish in the influenza pandemic that ravaged the globe in late 1918, succumbing on 6 November 1918 - age 19. Hammond lost his leg and emigrated to Mcleod's hometown of Winnipeg Manitoba.
B5782 shows typical markings for No.2 Sqn with the zip-zag on the rear fuselage. During the German offensive in Spring 1918 all unit markings on RFC aircraft were changed in an effort to confuse German intelligence. All scout units exchanged markings, while two seaters had their markings removed. At the time of the VC action B5773 would have looked similiar to B5782, bt with no Zig-zag.
References:
Victoria Cross: WW1 Airmen and Their Aircraft; Revell, Alex; Flying Machines Press 1997
Alex Revell Correspondence
Stewart Taylor Correspondence
Les Rogers Corresponence