The Medium Mk.A - The "Whippet"
Designed as a 'fast' tank capable of exploiting any breakthroughs, the Whippet was used to great effect during the battle of Amiens in 1918.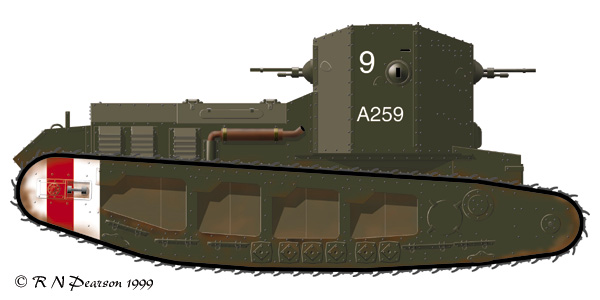 Medium Mk.A A259
Lt CH Sewell
3rd (light) Battalion
On 29 August 1918, Lt Sewell won the Victoria cross for coming to the aid of the trapped crew of another Whippet which had slipped into a shellhole and overturned, trapping the crew inside as the door was jammed shut. Despite being under German fire he managed to dig out the door and the crew escaped under cover of darkness. While returning to his own vehicle, Sewell was hit many times and later succumbed to his wounds.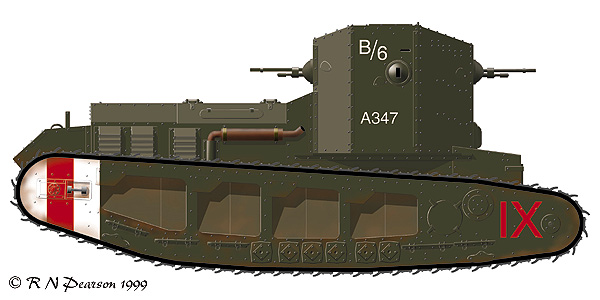 Medium Mk.A A347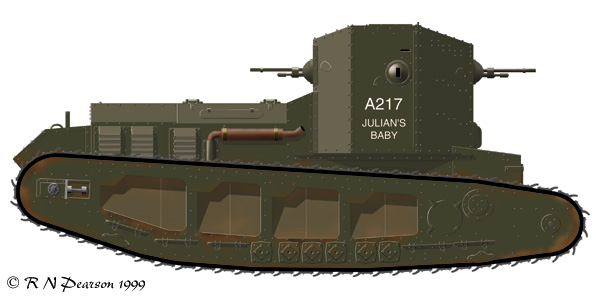 Medium Mk.A A217 "Julian's Baby"
I have been unable to find out anything about these two Whippets. The first British tanks carried no national markings of any kind as they were un-needed (the Germans had no tanks of their own design until early 1918). However once the Germans began to capture and make use of Allied tanks, some form of identification was required. The solution was to paint white/red/white stripes on the side, front and rear of Whippets. Later these were placed on top of the engine compartment as well.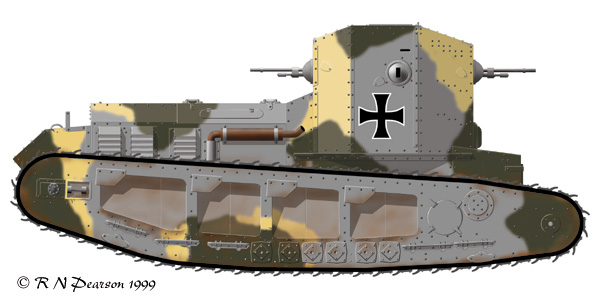 Medium Mk.A
Although considered by the Germans as the only Allied tank worth copying, no Whippets were used by them in combat. According to Hundleby & Strasheim they captured two Whippets, after extensive testing these were discarded as not being necessary as the similiar German LK II was under construction - ultimately only two of 580 LK IIs ordered were completed.
The profile here is conjectural based on colour descriptions. Note the proportions of the cross. they differ from that carried on aircraft
References:
Tanks and Trenches: David Fletcher (Ed)
A New Excaliber: AJ Smithers
Medium Tanks Marks A-D: AFV No.7
Czolgi Brtytyjskie 1914-1918
Emhar Whippet markings sheet
The German A7V Tank: Maxwell Hundleby & Rainer Strasheim